Episodes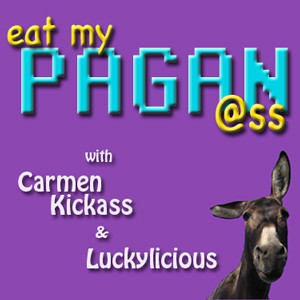 Friday Feb 26, 2010
Friday Feb 26, 2010
It's Carmen's birthday, bitches! So wish her a happy one by sending her an ecard at eatmypaganass@gmail.com.  And since it's her birthday, here's some of her favorite eye candy:
In this episode we discuss novelas, Carmen's fireman fantasies, prostitution and erotic massage from a pagan perspective, war & pleasure, listener emails, @sstrology, self empowerment and responsible witchhood, The Wigglian Way podcast, books (a pagan love affair!) and community service.
Remember - this is a video enhanced podcast with chapters, so look for photos and links embedded in the podcast.
Here are some links mentioned in the episode:
The Wigglian Way podcast, episode 63: http://bit.ly/Wig-63
The Wigglian Way podcast, episode 64: http://bit.ly/Wig-64
Carmen's favorite tarot book by Marcia Masino: http://bit.ly/best-tarot