Episodes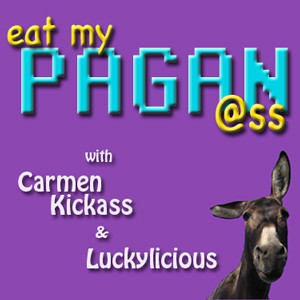 Thursday May 25, 2006
Thursday May 25, 2006
Carmen Kickass and Luckylicious bring you this fourth installment of virtual insanity and mayhem. Beltane dildo-ology (it's a real science!), Maypole dancing, baby naming, heathen land-taking ceremonies, and creepy haunted Manhattan buildings all discussed in this episode. Listener email is answered (for the most part), and Carmen takes a couple swipes at Lucky's jugular. This is a long one, but stick it out--you just might learn something.
Some useful links:
http://www.thetroth.org
http://www.vikinganswerlady.com
---
Email us at
eatmypaganass@gmail.com
with your ideas, feedback, gossip, blackmail letters, whatever. Love ya!
---
Email us at
eatmypaganass@gmail.com
to send us your comments, questions, hate mail, fan mail, whatevs! Go to our podcast blog to post a comment, share your thoughts, and divulge your deepest secrets in an unabashedly public forum:
http://eatmypaganass.podbean.com
Follow us on Twitter:
http://twitter.com/EatMyPaganAss
Be our fan on Facebook:
http://www.facebook.com/pages/Eat-My-Pagan-ss/172344217992
Join our Livejournal Community:
http://eatmypaganass.livejournal.com