Episodes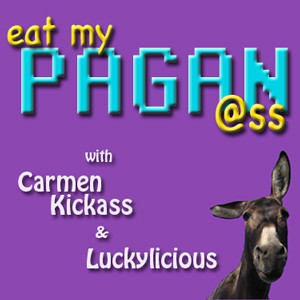 Friday Jul 30, 2010
Friday Jul 30, 2010
Season 3, Episode 1 (EMPA#0032): Gods Bless America Recorded NYC, July 4, 2010 Carmen Kickass and Luckylicious launch the third season of their hit pagan podcast, Eat My Pagan Ass. In this episode, Carmen and Lucky get into the spirit of the July 4 holiday and celebrate a pagan perspective on independence, freedom, liberation, and patriotism. Following the examples of the United States' founding fathers (and mothers), Carmen and Lucky take a stand against THE MAN, tyranny, oppression, and instead exercise their rights to freedom, liberty, and the pursuit of happiness. The astrological influences of Cancer are felt in this episode--security, pride in the home(land), and standing up for our young country in the face of critics. We meditate on mental or spiritual self-imprisonment and ways to embrace and practice freedom on many different levels of existence.
Lots of great patriotic music in this episode, too:
Lady Hope's Reel - American Fife Ensemble
Lovely Nancy - American Fife Ensemble
Federal Overture - Hesperus
American Life - Madonna
Freedom 90 - George Michael
Liberty Song - Sherrill Milnes and Jon Spong
Rickett's Hornpipe / Fisher's Hornpipe - Hesperus
Star Spangled Banner - Cactus Cuties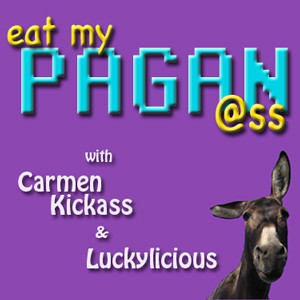 Thursday Dec 31, 2009
Thursday Dec 31, 2009
Happy New Year, pagany friends! It's 2010, and not much has changed! It's politics (of fear) as usual, the Jihad is still on (what are YOU wearing under there?), and we're questioning whether this new Pope has been testicle-checked. Carmen decides to launch a Pentacade (rather than Crusade, get it?) and lunges at the Pope during Christmas mass. Lucky calls for a storming of the Vatican archives to reclaim pagan treasures. And we propose new tactics for preventing future underwear bomb attacks. Let's just say it's another "smooth move" from New York City's craziest pagans.
My Podcast Alley feed! {pca-cbb1c02ac893778270b04ec4978e507f}