Episodes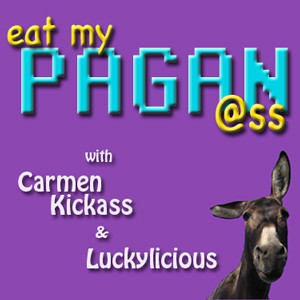 Sunday Oct 02, 2011
Sunday Oct 02, 2011
One sweltering early September morning at Gay Witch Camp (aka Between The Worlds queer pagan men's gathering) in southern Ohio, I was lugging my camping gear to and fro when who should happen to wander by and in a grand gesture of chivalry offer me some assistance but none other than the World Famous Pagan Author and Witch, Christopher "Get Off My Robe, Bitch" Penczak?!? It's not every day two of pagandom's most notorious gay witches meet for the first time. The earthworms will sing of our fateful encounter for generations to come. As it so happened, being the informed witch that I am (it pays to have dirt on people) I knew Mr. Penczak was going to be there and I was planning to hunt him down and nag him until he agreed to be interviewed. So imagine my delight when he not only found ME but also practically begged me to let him be on the show. Well, what can I say...they don't call me Lucky for nothing. I played hard to get at first, of course, but I consented. He IS world famous, after all.
Christopher "Get Off My Robe, Bitch" Penczak gets a smooch from Luckylicious.
In this episode of Eat My Pagan Ass podcast, Christopher Penczak dishes ALL to Lucky -- starting from his childhood Catholic porn fantasies wending all the way through his meteoric rise to grand poobah (well, 1/3rd poobah) of a pretty awesome school of witchcraft (but not wizardry...no, including the wizardry curriculum would have opened the school up to threats of copyright infringement from the folks at Hogwarts). Assless chaps are involved, as is much flirting and general silliness, all of which spice up what is a very interesting and informative glimpse into the life of one of modern paganism's most prolific witches and occultists, and explores the Temple of Witchcraft he created with his life partners Steve Kenson and Adam Sartwell.
Recorded September 15, 2011. Published October 2, 2011.
Featured web links:
Christopher Penczak's website: http://www.christopherpenczak.com
The Temple of Witchcraft website: http://www.templeofwitchcraft.com
Otherworld Apothecary witchcraft supplies website: http://www.otherworld-apothecary.com/
Between The Worlds queer pagan men's festival website: http://www.betweentheworlds.org
Featured musical artists:
Emerald Rose performing "Freya, Shakti" from the album "Bending Tradition"
The Gypsy Nomads performing "Belly Trance" from the album "At the Carnival Eclectique"
+ + +
Email us at eatmypaganass@gmail.com.
Friend us on Facebook at http://www.facebook.com/EatMyPaganAssPodcast
Follow us on Twitter: http://www.twitter.com/EatMyPaganAss
Donate to us via PayPal to eatmypaganass@gmail.com
THANK YOU FOR LISTENING! BLESSED BE, BITCHES!
"Who wouldn't want to be a Momma's Boy with this as your momma?"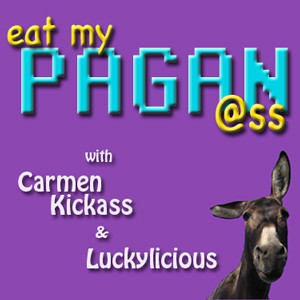 Tuesday Oct 12, 2010
Tuesday Oct 12, 2010
Season 3, Episode 2 (EMPA#0033): It Gets Better (Don't Off Yourself!) Recorded NYC, October 3, 2010 Carmen Kickass and Luckylicious proudly bring you the thirty-third installment of Eat My Pagan Ass. In this episode, we bring everyone up to speed on just where the heck we've been all summer long. Lucky's been on Fire Island, the notorious gay haven by the sea, communing with the elements and checking out all the delicious, roasting meat (see poem below). Carmen has been hopping the globe, stirring up trouble on both U.S. coasts and beyond. Both of us are asking "What the fuck is going on with all these gay suicides?" and you can bet we've got something to say about it. It's not all Sturm und Drang, however; we take a playful detour through the adventures of love (and how NOT to run away from the opportunity to love and be loved in return); we celebrate the official recognition of Druidry in the U.K. as a legitimate religion; we reply to some listener emails; we dish on J.K. Rowling's recent appearance on the Oprah Winfrey Show; announce that the legendary Enchantments magical store in New York City is alive and well on the Lower East Side; ruminate on the coming Samhain season; explore Carmen's unnatural fascination with large zits (gag); mention Perdurabo, an updated biography on the man, the myth, the legend himself, Aleister Crowley ("Uncle Al"), written by Richard Kaczynski; and last but not least we hear a wonderful new song by Jeff Altergott called "It Gets Better" dedicated to all the GLBTQ youth out there struggling with daily harassment for being who they are.
Featured artist:
Jeffrey Altergott
And now for a poem:
Fire Island
September 18, 2010 by Lucky de las Brujas
Roiling tides that presage the storms at sea, Half-naked (or fully bare) boys with tans Hurling themselves, laughing, carefree, Into the swelling waters, finding fun In daring Dame Nature herself.
Thongs on feet that flip, now flop, Now left alone along dry, sometimes-splintered boardwalks, Abandoned by their owners, Who prefer to feel the fire of the sun In the hot sands baking—almost burning— Between their carefully manicured toes, Connecting body to beach, man to eternity.
A timeless sounding as surf sinks into the porous shore, Ephemeral sea foam fizzing into nothingness. Dingbat birds with tiny bodies, long legs, and even longer beaks Chase after the receding, briny waters Wanting to taste the sweet, moist meat of a fat worm Buried below the thirsty sucking mud.
Pardon our sound--Lucky forgot to bring the good audio recorder and so this one was made with an iPhone.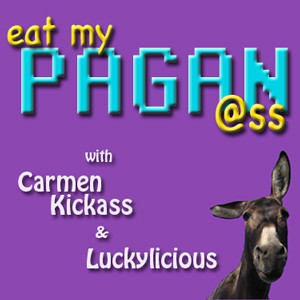 Tuesday Apr 20, 2010
Tuesday Apr 20, 2010
In this episode of Eat My Pagan Ass pagan podcast, Carmen Kickass lashes back at Grannylicious (aka Voldegranny), but short of starting a witch war proceeds with caution because she's truly scared of the evil that Granny can do (and has done), least of all the murder of Carmen's beloved parakeet Paco (R.I.P.)! Lucky doesn't want to get caught in the crossfire and changes the subject to more fun topics, like Sex and Beltane and Maypoles (ahem). But first -- the Vatican is at it again, deflecting responsibility for its sex abuse scandals by blaming homosexuality instead of its unnatural policy of priestly celibacy. Nice try, lump heads. Carmen and Lucky respond to TONS of listener emails about coming out of the broom closet, Project Pagan Enough, high priestesses who can't get over themselves, and more candle magic.
Featured Pagan Blog: Project Pagan Enough
Featured Musical Artist: Ocean Lab - Siren Song - I Am What I Am
Episode 29 recorded April 17, 2010, New York City