Episodes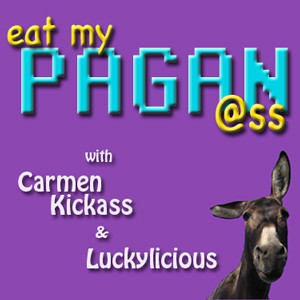 Tuesday Dec 18, 2012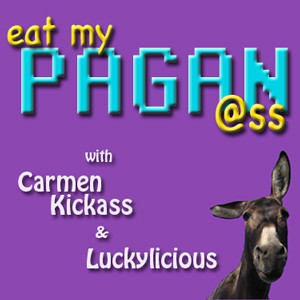 Sunday Oct 02, 2011
Sunday Oct 02, 2011
One sweltering early September morning at Gay Witch Camp (aka Between The Worlds queer pagan men's gathering) in southern Ohio, I was lugging my camping gear to and fro when who should happen to wander by and in a grand gesture of chivalry offer me some assistance but none other than the World Famous Pagan Author and Witch, Christopher "Get Off My Robe, Bitch" Penczak?!? It's not every day two of pagandom's most notorious gay witches meet for the first time. The earthworms will sing of our fateful encounter for generations to come. As it so happened, being the informed witch that I am (it pays to have dirt on people) I knew Mr. Penczak was going to be there and I was planning to hunt him down and nag him until he agreed to be interviewed. So imagine my delight when he not only found ME but also practically begged me to let him be on the show. Well, what can I say...they don't call me Lucky for nothing. I played hard to get at first, of course, but I consented. He IS world famous, after all.
Christopher "Get Off My Robe, Bitch" Penczak gets a smooch from Luckylicious.
In this episode of Eat My Pagan Ass podcast, Christopher Penczak dishes ALL to Lucky -- starting from his childhood Catholic porn fantasies wending all the way through his meteoric rise to grand poobah (well, 1/3rd poobah) of a pretty awesome school of witchcraft (but not wizardry...no, including the wizardry curriculum would have opened the school up to threats of copyright infringement from the folks at Hogwarts). Assless chaps are involved, as is much flirting and general silliness, all of which spice up what is a very interesting and informative glimpse into the life of one of modern paganism's most prolific witches and occultists, and explores the Temple of Witchcraft he created with his life partners Steve Kenson and Adam Sartwell.
Recorded September 15, 2011. Published October 2, 2011.
Featured web links:
Christopher Penczak's website: http://www.christopherpenczak.com
The Temple of Witchcraft website: http://www.templeofwitchcraft.com
Otherworld Apothecary witchcraft supplies website: http://www.otherworld-apothecary.com/
Between The Worlds queer pagan men's festival website: http://www.betweentheworlds.org
Featured musical artists:
Emerald Rose performing "Freya, Shakti" from the album "Bending Tradition"
The Gypsy Nomads performing "Belly Trance" from the album "At the Carnival Eclectique"
+ + +
Email us at eatmypaganass@gmail.com.
Friend us on Facebook at http://www.facebook.com/EatMyPaganAssPodcast
Follow us on Twitter: http://www.twitter.com/EatMyPaganAss
Donate to us via PayPal to eatmypaganass@gmail.com
THANK YOU FOR LISTENING! BLESSED BE, BITCHES!
"Who wouldn't want to be a Momma's Boy with this as your momma?"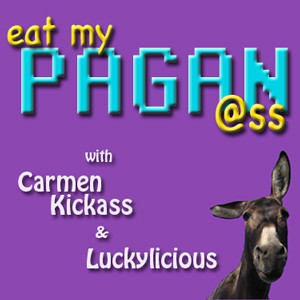 Sunday Sep 25, 2011
Sunday Sep 25, 2011
The Dragon Ritual Drummers make a special guest appearance on Eat My Pagan Ass podcast with host Luckylicious. Following the band's powerful performance at the Between The Worlds queer pagan men's gathering in southeastern Ohio in mid-September 2011, Lucky asks members Utu, Adrian, and Flint all about the group and their music. Listen and learn about the group's origins and inspirations (musical, magical, and spiritual), as well as their commitment to strengthening the brotherhood of men in paganism and their vision for a united global pagan community.
Lucky's interview with this world-famous, chart-topping musical performance group touches on the need for men's mysteries and rights of passage, the role of voodoo and other Afro-Caribbean religions in the evolution of American music and culture, and the wonder and joy that comes from following your heart, living your rhythm, and dancing your soul.
+ + +
About the Dragon Ritual Drummers
(Source:
the group's website
):
The Dragon Ritual Drummers [celebrated] their 10 year anniversary [in] 2010.  Based out of the Niagara Region, they began their journey as favorites in the pagan festival circuit in Ontario Canada.  They have since moved on to play at pagan festivals and large mainstream events all over North America.
The troupe is comprised of 6 members; Utu, Flint, Adrian, Drago, Naresh and Eion.  All members play a variety of instruments including tribal drums, string instruments, as well as brass and archaic reed instruments heard in the ancient hills and valleys of Europe, the Middle East and North Africa.  Their music and performances are creative, intense and powerful.  They bring the audience to their feet dancing as they are swept away in the intense beat of music, inspired from around the world and through the ages.
The lore of the Dragon Ritual Drummers is attached to the entity from which they take their name, the mythical dragon spirit that resides in an ethereal cave at the brink of Niagara Falls.  The ancient serpent spirit was once revered by aboriginal inhabitants of the region but was eventually cast into a negative legacy by the conquering Iroquois nation.  The serpents legacy was one of obscurity for generations.  From the beginning the the Dragon Ritual Drummers reached out to awaken the ancient water dragon spirit, and the rest as they say is history in the making.  The Dragon Ritual Drummers attribute much of their success to the dragon spirit, achieving unprecedented success for their musical genres world wide.  Their interactive and critically acclaimed CD "The Epic: A Drum Opera" tells the story of the Niagara dragon from the ice age to modern times, all with drums and percussion along with beautiful illustrations.  They  currently are promoting their newest release "Temple of the Drum" They have been featured in numerous mainstream and pagan media, have owned the #1 ranking on the Canadian MySpace music charts for the genres of "Afro-beat" and "Tropical", and are currently in the top 20 in the U.S. MySpace music charts, and ranked #1 for their genre of  World Music on Reverb Nation!
+ + + Recorded September 16, 2011 + + Published September 24, 2011.
Featured Songs:
Hot Toddy - Temple of the Drum - Dragon Ritual Drummers Fanga - Temple of the Drum - Dragon Ritual Drummers Tuatha De Dannan - Temple of the Drum - Dragon Ritual Drummers Shango - Tribal Magik - Dragon Ritual Drummers Bamboula - Tribal Magik - Dragon Ritual Drummers Mountain Mystery - Tribal Magik - Dragon Ritual Drummers All songs copyright Dragon Ritual Drummers.
BUY THE ALBUMS:
http://dragonritualdrummers.com/Cds.php
+ + +
Find us on the web:
Facebook:
http://facebook.com/eatmypaganasspodcast
Twitter:
http://www.twitter.com/eatmypaganass
Email:
eatmypaganass@gmail.com