Episodes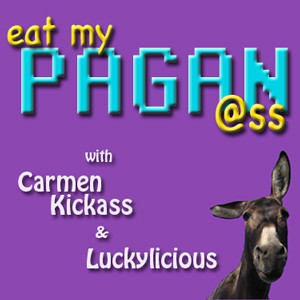 Tuesday Apr 20, 2010
Tuesday Apr 20, 2010
In this episode of Eat My Pagan Ass pagan podcast, Carmen Kickass lashes back at Grannylicious (aka Voldegranny), but short of starting a witch war proceeds with caution because she's truly scared of the evil that Granny can do (and has done), least of all the murder of Carmen's beloved parakeet Paco (R.I.P.)! Lucky doesn't want to get caught in the crossfire and changes the subject to more fun topics, like Sex and Beltane and Maypoles (ahem). But first -- the Vatican is at it again, deflecting responsibility for its sex abuse scandals by blaming homosexuality instead of its unnatural policy of priestly celibacy. Nice try, lump heads. Carmen and Lucky respond to TONS of listener emails about coming out of the broom closet, Project Pagan Enough, high priestesses who can't get over themselves, and more candle magic.
Featured Pagan Blog: Project Pagan Enough
Featured Musical Artist: Ocean Lab - Siren Song - I Am What I Am
Episode 29 recorded April 17, 2010, New York City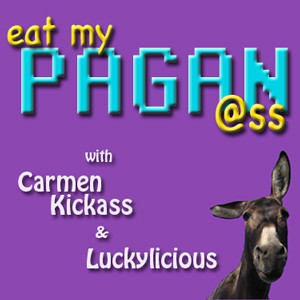 Friday Apr 09, 2010
Friday Apr 09, 2010
In this episode of Eat My Pagan Ass podcast, Lucky's notoriously rambunctious grandmother, a.k.a. Grannylicious, has flown in from goddess knows where in order to appear on the podcast -- at 93 years old, this makes her the oldest living human being (at least we think she's human) to podcast. Carmen refuses to be in her presence, which is just as well -- Granny lobs some rather contentious accusations at Carmen, and makes some outrageous claims to fame, which Lucky finds hard to swallow, including everything from being the broom flying coach for the Harry Potter movies to going over Niagara Falls in a barrel while being a member of the Canadian mounted police. As whenever family comes to visit, a lot of shit from the past rises to the surface, and Lucky can barely handle it. Grannylicious makes a shocking revelation about her past that you'll never believe.
Featured artist: Dar Williams, "Christians and the Pagans"
Episode 28 recorded April 3, 2010, NYC