Episodes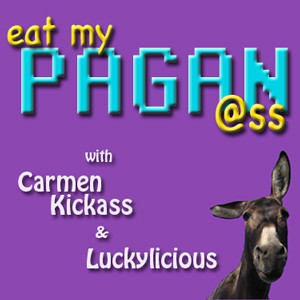 Saturday Dec 02, 2006
Saturday Dec 02, 2006
Lucky goes solo on this one and gets a little bit self-reflective at this turning of the Wheel. The power of letting go and the beauty of inner transformation are topics in this seasonal podcast episode. Blessed Samhain, everyone!
Email us
and share your Samhaintide musings. How do you like to celebrate this most magical of our holidays? What kind of mood do you get in? And, do you see dead people??:
eatmypaganass@gmail.com
. Go to our
podcast blog
to post a comment, share your thoughts, and divulge your deepest secrets in an unabashedly public forum:
http://eatmypaganass.podbean.com
Follow us on
Twitter
:
http://twitter.com/EatMyPaganAss
Be our fan on
Facebook
:
http://www.facebook.com/pages/Eat-My-Pagan-ss/172344217992
Join our
Livejournal
Community:
http://eatmypaganass.livejournal.com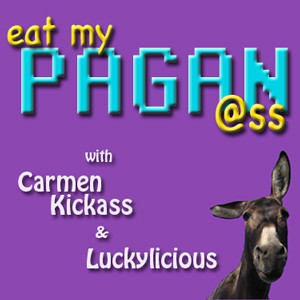 Thursday May 25, 2006
Thursday May 25, 2006
Carmen Kickass and Luckylicious bring you this fourth installment of virtual insanity and mayhem. Beltane dildo-ology (it's a real science!), Maypole dancing, baby naming, heathen land-taking ceremonies, and creepy haunted Manhattan buildings all discussed in this episode. Listener email is answered (for the most part), and Carmen takes a couple swipes at Lucky's jugular. This is a long one, but stick it out--you just might learn something.
Some useful links:
http://www.thetroth.org
http://www.vikinganswerlady.com
---
Email us at
eatmypaganass@gmail.com
with your ideas, feedback, gossip, blackmail letters, whatever. Love ya!
---
Email us at
eatmypaganass@gmail.com
to send us your comments, questions, hate mail, fan mail, whatevs! Go to our podcast blog to post a comment, share your thoughts, and divulge your deepest secrets in an unabashedly public forum:
http://eatmypaganass.podbean.com
Follow us on Twitter:
http://twitter.com/EatMyPaganAss
Be our fan on Facebook:
http://www.facebook.com/pages/Eat-My-Pagan-ss/172344217992
Join our Livejournal Community:
http://eatmypaganass.livejournal.com