Episodes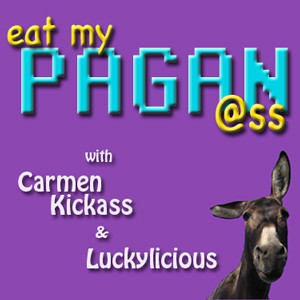 Saturday Apr 14, 2012
Saturday Apr 14, 2012
Most pagans don't know the name Edmund "Eddie" Buczynski (aka Minos Gwydion-Hyakinthos), but they should. In the span of only a few years in the 1970s, Eddie established three living traditions of modern neopaganism—the New York Welsh Tradition, the Wica Tradition, and the Minoan Tradition, which includes the Minoan Brotherhood, Minoan Sisterhood, and the Cult of Rhea, or the Cult of the Double Axe. This founding elder stood at the convergence of the hippy culture, gay liberation movement, and the rise of neopaganism in New York City, and took aspects of each to create unique and important contributions to neopagan religion and culture.
In this episode of Eat My Pagan Ass, Luckylicious interviews special guest
Michael G. Lloyd
(aka Garan Du), a Minoan high priest, co-founder of the
Between the Worlds
men's gathering, and author of
Bull of Heaven: The Mythic Life of Eddie Buczynski and the Rise of the New York Pagan
, a book that some consider the sequel to Margot Adler's seminal history on neopaganism,
Drawing Down the Moon
(Ms. Adler provides the foreword to
Bull of Heaven
). As Michael shares in this episode, researching Eddie's life and its impact on neopaganism was a labor of love that put him in touch with many of our community's most respected and well-known leaders. As a spiritual descendant of Eddie's work, Michael hopes that through this book more neopagans will become familiar with Eddie, a man he calls "the Gerald Gardner of the gay pagan community." Recorded Sept. 15, 2011. Published April 13, 2012.
Featured web links:
Michael G. Lloyd's author page:
https://www.facebook.com/Iakkhos
Michael G. Lloyd's guest blog post on The Wild Hunt: 
http://www.patheos.com/blogs/wildhunt/tag/eddie-buczynski
Between the Worlds Men's Gathering:
http://www.betweentheworlds.org
Featured music:
"Siganos Pentozalis" by Various Artists "Blue Eyed Minoan" by Tatjana Maté "Epostiroxan Ta Nera" by Various Artists "Minoan Queen" by Divine Knights + + + Email us at eatmypaganass@gmail.com. Friend us on Facebook at
http://www.facebook.com/EatMyPaganAssPodcast
Follow us on Twitter:
http://www.twitter.com/EatMyPaganAss
Donate to us via
PayPal
to eatmypaganass@gmail.com THANK YOU FOR LISTENING! BLESSED BE, BITCHES!