Episodes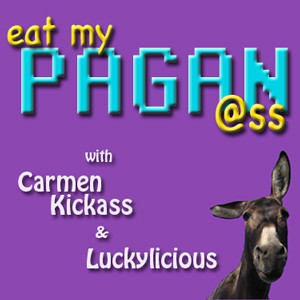 Sunday Oct 02, 2011
Sunday Oct 02, 2011
One sweltering early September morning at Gay Witch Camp (aka Between The Worlds queer pagan men's gathering) in southern Ohio, I was lugging my camping gear to and fro when who should happen to wander by and in a grand gesture of chivalry offer me some assistance but none other than the World Famous Pagan Author and Witch, Christopher "Get Off My Robe, Bitch" Penczak?!? It's not every day two of pagandom's most notorious gay witches meet for the first time. The earthworms will sing of our fateful encounter for generations to come. As it so happened, being the informed witch that I am (it pays to have dirt on people) I knew Mr. Penczak was going to be there and I was planning to hunt him down and nag him until he agreed to be interviewed. So imagine my delight when he not only found ME but also practically begged me to let him be on the show. Well, what can I say...they don't call me Lucky for nothing. I played hard to get at first, of course, but I consented. He IS world famous, after all.
Christopher "Get Off My Robe, Bitch" Penczak gets a smooch from Luckylicious.
In this episode of Eat My Pagan Ass podcast, Christopher Penczak dishes ALL to Lucky -- starting from his childhood Catholic porn fantasies wending all the way through his meteoric rise to grand poobah (well, 1/3rd poobah) of a pretty awesome school of witchcraft (but not wizardry...no, including the wizardry curriculum would have opened the school up to threats of copyright infringement from the folks at Hogwarts). Assless chaps are involved, as is much flirting and general silliness, all of which spice up what is a very interesting and informative glimpse into the life of one of modern paganism's most prolific witches and occultists, and explores the Temple of Witchcraft he created with his life partners Steve Kenson and Adam Sartwell.
Recorded September 15, 2011. Published October 2, 2011.
Featured web links:
Christopher Penczak's website: http://www.christopherpenczak.com
The Temple of Witchcraft website: http://www.templeofwitchcraft.com
Otherworld Apothecary witchcraft supplies website: http://www.otherworld-apothecary.com/
Between The Worlds queer pagan men's festival website: http://www.betweentheworlds.org
Featured musical artists:
Emerald Rose performing "Freya, Shakti" from the album "Bending Tradition"
The Gypsy Nomads performing "Belly Trance" from the album "At the Carnival Eclectique"
+ + +
Email us at eatmypaganass@gmail.com.
Friend us on Facebook at http://www.facebook.com/EatMyPaganAssPodcast
Follow us on Twitter: http://www.twitter.com/EatMyPaganAss
Donate to us via PayPal to eatmypaganass@gmail.com
THANK YOU FOR LISTENING! BLESSED BE, BITCHES!
"Who wouldn't want to be a Momma's Boy with this as your momma?"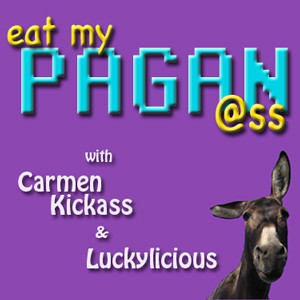 Thursday Aug 04, 2011
Thursday Aug 04, 2011
AS GAY AS IT GETS!
Gay pagans, gay gods, sex magick, frolicking in the forest, and MORE!
Ocymvio
, a gay pagan who's made his home in NYC and has brought quite a big of magick and fellowship to the gay pagan community there. Founder of the
NYC Gay Men's Open Pagan Magick Circle
, gypsy born,
Minoan Brotherhood
member,
fashion designer
, tarot reader, regular attendee at
Between the Worlds
and
Short Mountain Sanctuary
, and all around groovy guy, Ocymvio shares his experiences as a gay pagan and how he puts a little swish into his "Walking the Talk." This episode was recorded at Beltane, so there's a bit of friskiness and quite a lot of vulgarity -- served up just how you badass pagans love to hear it! See Ocymvio's fashion designs on the web at
Gypsycamp Clothing
. Other links featured in this podcast: Christopher Penczak's Blog:
Gay Gods
Magickal Realms
in the Bronx, NY
Gay Sex Magick
group on Tribe.net
Recorded May 7, 2011 ++ Published August 3, 2011
Music Credits
Don't Be Gay - Chase Pagan
Beltane - Dream Catcher - Ashtar Ron Allen
Find us on the web:
Facebook: http://facebook.com/eatmypaganasspodcast
Twitter: http://www.twitter.com/eatmypaganass
Email: eatmypaganass@gmail.com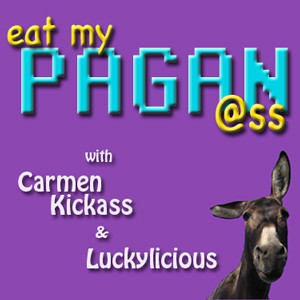 Tuesday Mar 22, 2011
Tuesday Mar 22, 2011
Carmen drops a bomb on Eat My Pagan Ass in this episode!!  She's leaving the show to travel the world with some crazy band of "famous" pagans (she won't say who) doing miracles in places of need.  It's all very mysterious, and Lucky wonders if Grannylicious has anything to do with it.  Speaking of Grannylicious, EMPA fan Fire Lyte reveals a tasty tidbit of gossip -- tho we'll save most of his story for another podcast.  Lucky is distraught about what's to come...or is he?  Maybe he planned this all along.  Maybe Carmen was just getting in the way of his glory.  In the meantime, we dish about fallen fashion icon John Galliano and his wicked Nazi ways. (Shame on you, buttercup! Lay off the sauce, sober up, own up, and move on! -- Take it from Lucky, who celebrates three years of sobriety this week!)
Lucky and Carmen also share some stories of how they have both had run-ins with the po-po lately...wtf?  No one went to jail, so things are looking up.  Hope springs eternal, and well that was another lame segue -- BLESSED SPRING EQUINOX all you fan-freaking-tastic EMPA listeners!!!
THIS IS NOT THE LAST EPISODE!  MORE IS ON THE WAY!!!
SPECIAL NOTE:
This episode was recorded March 3, 2011, before the March 11 earthquake and tsunami that devastated northern Japan. Please send your prayers to the people and animals of that country. Also, if you can, please consider making a donation to any of the causes that are working to improve the situation in Japan. Here are two suggestions: (for the people)
American Red Cross
or (for the animals)
Japan Earthquake Animal Rescue and Support.
Featured Music:
"Springtime for Hitler" from "The Producers" Broadway Cast Recording "Goodbye" from My Darkest Days
Contact us or stay in the know:
Email:
eatmypaganass@gmail.com
Facebook:
http://facebook.com/eatmypaganasspodcast
Twitter:
http://twitter.com/eatmypaganass
Web:
http://eatmypaganass.com
Recorded March 3, 2011 - Published: March 22, 2011