Episodes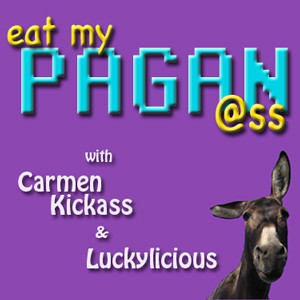 Thursday Mar 25, 2010
Thursday Mar 25, 2010
GUMMY BEAR PORN!
Podcasting from a trailer-park shack in the sky, Carmen and Lucky are on a gummy bear-induced sugar high, so their ADD is at its zenith. Editing has helped, but they're all over the map on this episode: obesity and thin obsession, Anna Wintour, Johnny Weir, tarot readings, listener emails, Carmen's birthday wishes, gummy bears as sex toys, 2010 Pisces Party shenanigans, did we mention Gummy Bears? Oh, and two very special announcements, including:
Wicca History Project: a new video series produced by EMPA Productions featuring Zan Fraser, author of A Briefe Historie of Wytches, now in filming and available soon on YouTube. Stay tuned!
Grannylicious, Lucky's somewhat mentally loose 93 year old grandmother (and a fierce witch -- one of the originals) is coming to town and is demanding to be on the podcast -- so look out for her.
Featured pagan musical artist:
Glitterpussy
, performing "Skinny" live (acoustic) at Starwood Festival 2009 -
http://www.myspace.com/glitterpussy
Featured pagan artist:
Logan G.
Episode 27 recorded March 6, 2010, New York City, NY. Released March 24, 2010.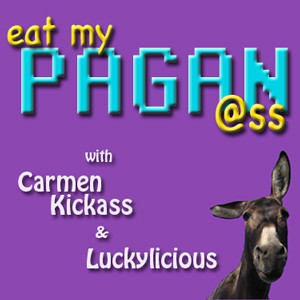 Friday Feb 26, 2010
Friday Feb 26, 2010
It's Carmen's birthday, bitches! So wish her a happy one by sending her an ecard at eatmypaganass@gmail.com.  And since it's her birthday, here's some of her favorite eye candy:
In this episode we discuss novelas, Carmen's fireman fantasies, prostitution and erotic massage from a pagan perspective, war & pleasure, listener emails, @sstrology, self empowerment and responsible witchhood, The Wigglian Way podcast, books (a pagan love affair!) and community service.
Remember - this is a video enhanced podcast with chapters, so look for photos and links embedded in the podcast.
Here are some links mentioned in the episode:
The Wigglian Way podcast, episode 63: http://bit.ly/Wig-63
The Wigglian Way podcast, episode 64: http://bit.ly/Wig-64
Carmen's favorite tarot book by Marcia Masino: http://bit.ly/best-tarot