Episodes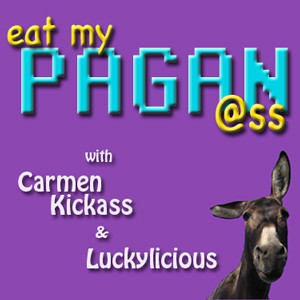 Sunday Oct 02, 2011
Sunday Oct 02, 2011
One sweltering early September morning at Gay Witch Camp (aka Between The Worlds queer pagan men's gathering) in southern Ohio, I was lugging my camping gear to and fro when who should happen to wander by and in a grand gesture of chivalry offer me some assistance but none other than the World Famous Pagan Author and Witch, Christopher "Get Off My Robe, Bitch" Penczak?!? It's not every day two of pagandom's most notorious gay witches meet for the first time. The earthworms will sing of our fateful encounter for generations to come. As it so happened, being the informed witch that I am (it pays to have dirt on people) I knew Mr. Penczak was going to be there and I was planning to hunt him down and nag him until he agreed to be interviewed. So imagine my delight when he not only found ME but also practically begged me to let him be on the show. Well, what can I say...they don't call me Lucky for nothing. I played hard to get at first, of course, but I consented. He IS world famous, after all.
Christopher "Get Off My Robe, Bitch" Penczak gets a smooch from Luckylicious.
In this episode of Eat My Pagan Ass podcast, Christopher Penczak dishes ALL to Lucky -- starting from his childhood Catholic porn fantasies wending all the way through his meteoric rise to grand poobah (well, 1/3rd poobah) of a pretty awesome school of witchcraft (but not wizardry...no, including the wizardry curriculum would have opened the school up to threats of copyright infringement from the folks at Hogwarts). Assless chaps are involved, as is much flirting and general silliness, all of which spice up what is a very interesting and informative glimpse into the life of one of modern paganism's most prolific witches and occultists, and explores the Temple of Witchcraft he created with his life partners Steve Kenson and Adam Sartwell.
Recorded September 15, 2011. Published October 2, 2011.
Featured web links:
Christopher Penczak's website: http://www.christopherpenczak.com
The Temple of Witchcraft website: http://www.templeofwitchcraft.com
Otherworld Apothecary witchcraft supplies website: http://www.otherworld-apothecary.com/
Between The Worlds queer pagan men's festival website: http://www.betweentheworlds.org
Featured musical artists:
Emerald Rose performing "Freya, Shakti" from the album "Bending Tradition"
The Gypsy Nomads performing "Belly Trance" from the album "At the Carnival Eclectique"
+ + +
Email us at eatmypaganass@gmail.com.
Friend us on Facebook at http://www.facebook.com/EatMyPaganAssPodcast
Follow us on Twitter: http://www.twitter.com/EatMyPaganAss
Donate to us via PayPal to eatmypaganass@gmail.com
THANK YOU FOR LISTENING! BLESSED BE, BITCHES!
"Who wouldn't want to be a Momma's Boy with this as your momma?"