Episodes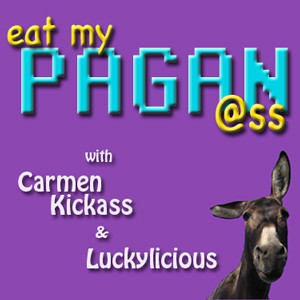 Tuesday Mar 13, 2012
Tuesday Mar 13, 2012
Ever wondered what your soul looks like? Just ask Lisa Owen, a talented artist who sketches beautiful original art based on her psychic impressions of people's souls. After a harrowing near-death experience following a car accident at a young age, her psychic awareness intensified with abilities to see auras and talk to spirit guides and ancestor spirits. Her training with midwestern Native American tribes  taught her reverence for the circle of life and the sacredness of totems, the medicine wheel, and the spiritual artist's path. Then, while overcoming a cancer diagnosis that resulted in intensive chemotherapy and a double mastectomy, Lisa's artistic powers ignited and she began to shape her visions into drawings, dolls, and altar pieces. "Stage IIIa cancer...gave me my art...art is my juice, my blessing from the gods...I learned how to live through almost dying," Lisa says in this powerful interview, recorded July 17-ish, 2011, at the Sirius Rising Festival at the Brushwood Folklore Center in Sherman, New York.
I have had the pleasure of receiving two soul readings from Lisa during two separate trips to the Sirius Rising Festival, and both have been powerfully moving experiences of healing and transformation for me. She travels the country attending pagan festivals, so be on the lookout for her at your next festival. You can also check her itinerary and view her art on her website at http://www.bearsoulstudio.com. She is also available for readings and consultations.
Soul Portrait my Lisa Owen of Bear Soul Studio. Copyright Lisa Owen.
Recorded July 17, 2011. Published March 13, 2012.
Featured web links:
Lisa Owen's website: http://www.bearsoulstudio.com
Sirius Rising festival website: http://www.brushwood.com/sirius.html
Featured musical artists:
"Appalachian Roundup" by Celtic Thunder
"Spring Raja" by Christopher of the Wolves
"Biomorph" by Christopher of the Wolves
"Born to Be Wild" by Steppenwolf
"Stayin' Alive" by the BeeGees
"Man In the Mirror" by Michael Jackson
"Skunk Werks" by Belief Systems
"Arc of Ascent" by Vas
"Theme from Charmed" by Knightsbridge
"Devil Went Down to Georgia" by The Charlie Daniels Band
+ + +
Email us at eatmypaganass@gmail.com.
Friend us on Facebook at http://www.facebook.com/EatMyPaganAssPodcast
Follow us on Twitter: http://www.twitter.com/EatMyPaganAss
Donate to us via PayPal to eatmypaganass@gmail.com
THANK YOU FOR LISTENING! BLESSED BE, BITCHES!